Regular price
Sale price
£19.00 GBP
Unit price
per
Sale
Sold out
dry skin | normal skin | mature skin | vascular skin | combination skin
Designed for dry, delicate, mature, tired, gray skin that has frequent contact with adverse urban factors, and is thirsty for nourishment, regeneration and strengthening.
FOR WHOM?
Elixir rich enrichment in extracts, for complexion such as plant supply, amount of tired plant, expansion, ubiquitous frequent sales frequency

HOW IT WORKS?
Our clients (let's undo our research with application research) that the SYMPHYTUM elixir:

✧ provides a feeling of hydration and nourishment to the skin
    smooth, smoothes and elastic skin
✧ illuminate the complexion
✧ soothes skin irritations
✧ has a nice oil formula
✧ it is super efficient (three drops of animals are enough for the whole face)
✧ easy to apply thanks to the pipette and easy to distribute

SMELL
It is supposed to give pleasure, but also support the effects of herbs. This nourishing facial serum has a fruity and floral scent. Extremely refreshing Ho wood, sensual sage, orange. And a drop of warm jasmine.


THE MOST IMPORTANT INGREDIENT, OR THE NAME OF THE COSMETIC:
Comfrey [Symphytum O.] - its coordinating, soothing, regenerating and moisturizing properties - the main and related to the regulating effect of natural allantoin.


RIRUAL
day after completing the stage. Spread 2-3 drops in your fingers and spread the sentences on the skin that is still wet. You can spread it only over the problematic part or over the entire face.

The potion can be used or it can work with its field, for example just to contain an alternative, you may recommend a field in a cavity and mix it with 1-2 drops of the potion. Or build with 2 drops from a TONICUM serving!

Treat the elixir as an ampoule - after your home ritual SPA, after thoroughly familiarizing yourself with the face, after applying and washing the mask, tone your face with a tonic, then apply 3 drops of the elixir on the still moist skin of the face and face, massage and pat. Or do a facial massage.

INGREDIENTS THAT MAKE MIRACLES
Bone extract - supports skin hydration, has a protective effect, soothes the overflowing thuja, helps to eliminate redness after regulation, supports the process of granulation of the skin.

Arnica extract - improves skin circulation, known for its anti-inflammatory and antifungal properties.

Calendula extract - soothes, soothes to help rosacea and brightens hair follicles, discoloration.

Chamomile extract - anti-inflammatory, antiallergic, soothing effect.

Wild elderberry extract - has antioxidant properties, helping to scavenge free radicals.

Coenzyme Q10 - one of the agents with any antioxidants, scavenges free radicals, thus delaying skin aging. Intensively firms and regenerates the skin.

ESSENTIAL OILS:

Ho wood essential oil - very rich in linalool. It is a chemical compound of the tester, testone, has a beneficial effect on the body, among others anti-inflammatory.

Clary sage essential oil (Salvia Sclarea) - a line following infections, a line of relaxing and calming properties, evaluation in states of tension and anxiety tension.

Jasmine Absolute (Jasminum Grandiflorum) - soothes irritated skin, works and regenerates. In aromatherapy, it works by reducing tension and anxiety, and improves mood. In ancient times it was considered an aphrodisiac ... But check for yourself if they were right then ...

Oil with orange-red (Citrus Aurant Dulcis) - strong and effective anti-inflammatory anti-inflammatory. It helps to reduce work. There was also an antidepressant, calming effect, soothing nervous tension. In our cream, we used essential oil pressed from fruits and seeds, which then underwent a distillation process, thanks to which it was left with ineffective photosensitizing ingredients.

VITAMINS:

Vitamin C [3%] - fully natural red, vitamin C works very well on the forms, stabilizes the growth, improves the color, improves the level of elastin, balances weights.

Natural vitamin E - has antioxidant and protective properties, improves collagen development, helps to improve weight.


CRUDE OILS:

Raspberry oil - antioxidant effect due to the content of tocopherols and ellagic acid. Its softness and smoothness are applied to the application. It stimulates the production of collagen and elastin, thanks to which we are making progress in firming and slightly anti-wrinkle. Supports protection against the sun's UVA and UVB rays. It is also great for oily and independent skin due to its antibacterial properties.

Evening primrose oil - oils and soothes, nourishes and regenerates the skin, has a slight anti-aging effect. This is one of those oils that are supposed to have the GLA quality guarantee.
Black currant oil - contains a very large amount of EFAs (essential unsaturated fatty acids), and is one of the few oils with such a high amount of γ-linolenic acid (over 15%!). This oil is believed to smooth, regenerate, protect the skin, soothe, and have anti-inflammatory and anti-aging properties.

Rosehip oil - strengthens the protective function of the epidermis and helps maintain proper hydration. It shows anti-aging properties by firming and making the skin more elastic. Regulates the size of the pores.

Sunflower oil - strengthens epidermal barriers, perfectly softens and smoothes the skin. It has anti-radical, anti-inflammatory and normalizing properties. It does not cause blackheads.

Squalane - helps to moisturize, smooth and transport nutrients.
Share
View full details
Welcome to Easydoor
You can buy here natural, ecological, plant-based, vegan or vegetarian products for your Beauty, Health and Relaxation.
AITNA VOLCANIC ESSENCE Bath Shower Zagara

The true essence of Sicily: citrus fruits. The names comes from the Arabic world "Zagara" meaning "sparkling white flower" and shows the citrus flower.

LavidouX Hair Repair Shampoo & Conditioner Set Amber Extract & Argan Oil

Hair Repair products improves The tensile properties of damaged and fragile hair.


Raw Chocolate Company Salty Chocolate Hazelnuts 

Vegan Organic Chocolate Coated Hazelnuts Salty Chocolate Hazelnuts Winner: Boom Awards 2021, Nourish Awards 2021, Best Snack & People's Choice Award Organic raw chocolate coated roasted hazelnuts.

IZY Bottles Jack Ottanio - 46 Hearts of Diamonds

Show your love for art with the 46 Hearts of Diamonds bottle from the IZY x Art Collection, while enjoying your favorite hot or cold drink carefree.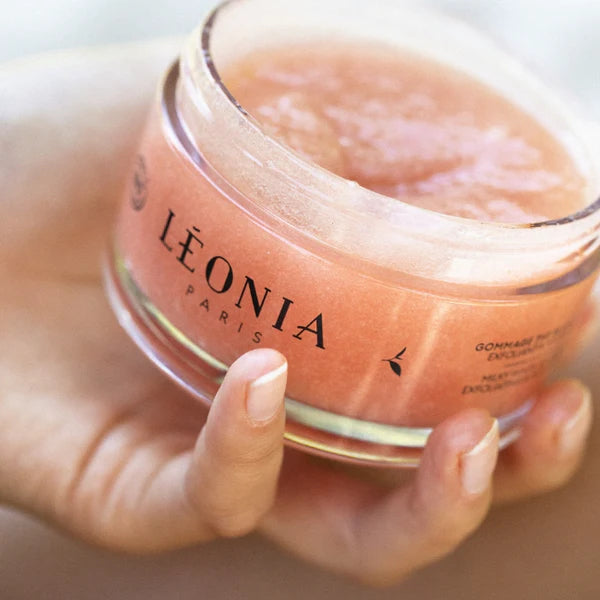 LEONIA MILKY WHITE TEA SCRUB EXFOLIATING & MOISTURIZING
This 100% natural white tea body scrub contains sugar and rice powder to perfectly exfoliate the skin. White tea and vegetable oils nourish, soften and protect the epidermis. The skin is smooth and satiny. Sweet natural fragrance of White Peach Tea.