Regular price
Sale price
£19.00 GBP
Unit price
per
Sale
Sold out
vascular skin | rosacea
An elixir extremely rich in plant extracts. Designed for skin with capillaries and skin affected by rosacea.


HOW IT'S WORKING?
Our clients assure (which is confirmed by the ordered application tests) that the AESCULUS elixir:

✧ reduces skin erythema
✧ reduces the visibility of blood vessels
✧ soothes irritations
✧ provides a feeling of smoothness and elasticity of the skin
✧ provides a feeling of nourishment and hydration to the skin
✧ has a nice oil formula
✧ it is super efficient (three drops are enough for the whole face)
✧ It is very easy to apply (with a pipette) and spread

SMELL:
Herbal and fruity plus sweet and crisp bergamot combined with myrrh and warmed with a delightful note of benzoin resin. Warm and sensual.


MOST IMPORTANT INGREDIENT OR COSMETIC NAME:
Horse chestnut [Aesculus L.] - extracts from the inflorescence of horse chestnut strengthen and seal blood vessels, reduce their fragility and visibility on the skin.

HOW TO USE:
Use in the evening, after cleansing the face thoroughly. Spread 2-3 drops between your fingers and spread it gently on the skin that is still damp. You can spread it only on problematic parts or all over your face.

AESCULUS elixir can be used on its own or by mixing it with your favourite cream, eg ACHILLEA - just apply a small amount of the cream to the hollow of your hand and mix it with 1-2 drops of the elixir. Treat the elixir as a special ampoule - after a home SPA ritual, after thoroughly cleansing your face, after applying and washing the mask, tone your face with a tonic or a hydrosol, and then apply 3 drops of the elixir on the still moist skin of your face and gently massage it. Apply a roller to increase the massage effect. Remember that you can rub the excess serum remaining on your hands into the back of your hand!

INGREDIENTS THAT MAKE MIRACLES:
In the formula of this elixir you will find PLANT EXTRACTS prepared by us:

Chestnut flower extract - strengthens blood vessels, seals the walls of blood vessels.

Rue extract - successfully used in the treatment of vascular purpura, telangiectasia, rosacea and seborrhea.

Helichrysum extract - used for the care of irritated skin, prone to allergies, infections and dry skin.

Goldenrod extract - used in the care of seborrheic skin, with acne and rosacea. It reduces and cleans pores. Brightens the complexion. It has antiseptic, anti-inflammatory and astringent properties.

Geranium extract - similarly to goldenrod, used in the care of seborrheic skin, with adolescent acne and rosacea. It reduces and cleans pores. It has antiseptic, anti-inflammatory, drying and astringent properties.

Calendula extract - has a soothing effect, soothes the symptoms of rosacea and inflammation of the hair follicles, lightens discoloration.

Comfrey extract - supports skin hydration, protects, soothes rosacea, helps to eliminate acne redness, supports the skin granulation process.

Wild elderberry extract - has antioxidant properties, helping to fight free radicals.

Bisabolol - protects against redness, prevents inflammation, facilitates skin healing and inhibits skin discoloration. Importantly, it helps to improve the penetration - and thus the effectiveness - of other ingredients in cosmetic formulations.

Highly concentrated plant essences, i.e. ESSENTIAL OILS:

Bergamot essential oil (Citrus Aurantium Bergamia) - reduces the excessive work of the sebaceous glands, accelerates skin regeneration. In addition, it has an antidepressant and anxiolytic effect, improves mood without causing arousal.

Myrrh Essential Oil (Commiphora Myrrha) - Helps maintain healthy skin. It soothes, helps to moisturize and nourish the skin. In ancient Egypt, myrrh was used to prevent skin aging.

Benzoic resin (Styrax tonkinensis) - soothes and whitens the skin, studies have shown that when used on small wounds, it has a disinfecting effect, "thinning the secretions of the respiratory tract, helps with coughing and rhinitis. The famous monastic lotion (Friar's lotion prescribed for inhalation, among others. Benzoin resin also has a healing effect in joint inflammation (...) It calms the psyche. "(See: click)

VITAMINS:

Vitamin C [3%] - a fully natural, modern, patented, very stable form of vitamin C has an antioxidant effect, supports the proper development of connective tissue, improves skin tone, stimulates the production of collagen and elastin, smoothes fine wrinkles.
Natural vitamin E - has antioxidant and protective properties, stimulates collagen production, helps smooth out fine lines.

Unrefined, cold-pressed, full of wonderful ingredients OILS:

Linseed oil - has an indirect moisturizing effect (reduces TEWL), has anti-free radicals and antioxidant properties, counteracts oxidative stress and soothes irritations and helps to inhibit inflammation.

Parsley oil - has anti-inflammatory, bacteriostatic and astringent properties; strengthens the walls of blood vessels. Has brightening properties; supports the healing of epidermal damage.

Raspberry oil - has an antioxidant effect due to the content of natural tocopherols and ellagic acid. When applied to the skin, it makes it soft and smooth. It stimulates the production of collagen and elastin, thanks to which we owe it a firming and slightly anti-wrinkle effect. Supports protection against UVA and UVB solar radiation. It is also great for oily and acne-prone skin due to its antibacterial properties.

Black currant oil - contains a very large amount of EFAs (essential unsaturated fatty acids), and is one of the few oils with such a high amount of γ-linolenic acid (over 15%!). This oil is believed to smooth, regenerate, protect the skin, soothe, and have anti-inflammatory and anti-aging properties.

Rosehip oil - strengthens the protective function of the epidermis and helps maintain proper hydration. It shows anti-aging properties by firming and making the skin more elastic. Regulates the size of the pores.

Sunflower oil - strengthens epidermal barriers, perfectly softens and smoothes the skin. It has anti-radical, anti-inflammatory and normalizing properties. It does not cause blackheads.

Squalane - helps to moisturize, smooth and transport nutrients.
Share
View full details
Welcome to Easydoor
You can buy here natural, ecological, plant-based, vegan or vegetarian products for your Beauty, Health and Relaxation.
AITNA VOLCANIC ESSENCE Bath Shower Zagara

The true essence of Sicily: citrus fruits. The names comes from the Arabic world "Zagara" meaning "sparkling white flower" and shows the citrus flower.

LavidouX Hair Repair Shampoo & Conditioner Set Amber Extract & Argan Oil

Hair Repair products improves The tensile properties of damaged and fragile hair.


Raw Chocolate Company Salty Chocolate Hazelnuts 

Vegan Organic Chocolate Coated Hazelnuts Salty Chocolate Hazelnuts Winner: Boom Awards 2021, Nourish Awards 2021, Best Snack & People's Choice Award Organic raw chocolate coated roasted hazelnuts.

IZY Bottles Jack Ottanio - 46 Hearts of Diamonds

Show your love for art with the 46 Hearts of Diamonds bottle from the IZY x Art Collection, while enjoying your favorite hot or cold drink carefree.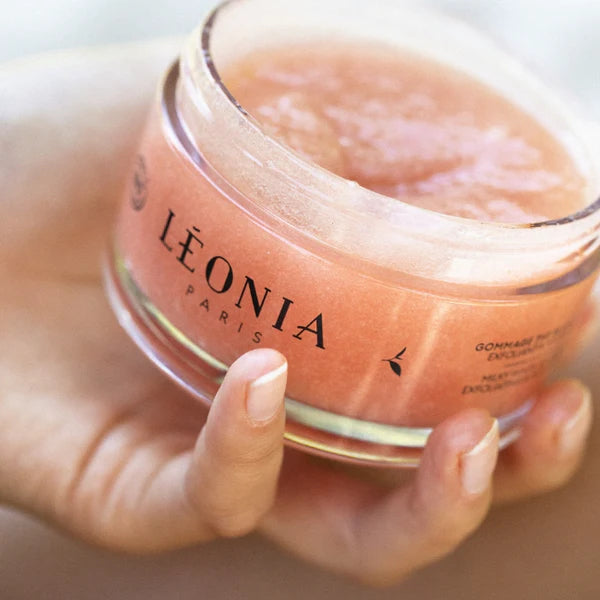 LEONIA MILKY WHITE TEA SCRUB EXFOLIATING & MOISTURIZING
This 100% natural white tea body scrub contains sugar and rice powder to perfectly exfoliate the skin. White tea and vegetable oils nourish, soften and protect the epidermis. The skin is smooth and satiny. Sweet natural fragrance of White Peach Tea.